Now that Lyn is back to posting {yay!}, she suggested we both post the linky each Monday. Which is great – you can link and view on either blog – except I don't really have another BOM…and goodness knows, I shouldn't be starting something new…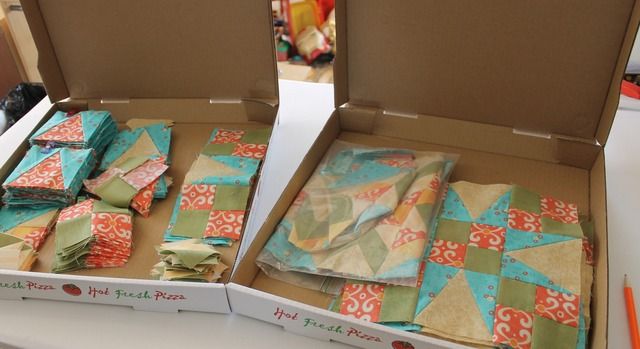 But that reminded me that my Celtic Solstice is currently taking up three boxes in the WiP-ville, between the uncut fabric, the cut pieces, and the finished blocks. It's the Bonnie Hunter Mystery from 2014, and I'm doing it in yardage, not scraps. I adore the fabric…but I also got terribly bored making eighteen thousand four patches that are all.exactly.the.same. So, BOM seems like a good way to tackle this one. {Added bonus – putting off Eternal Bloom for another week!}
So I put the blocks up on the design wall to see how far I had gotten.
…wow, eleven blocks. Um.
And then, after spending the day measuring things, taking notes, making some flying geese, and assembling most of the loose parts, I was up to…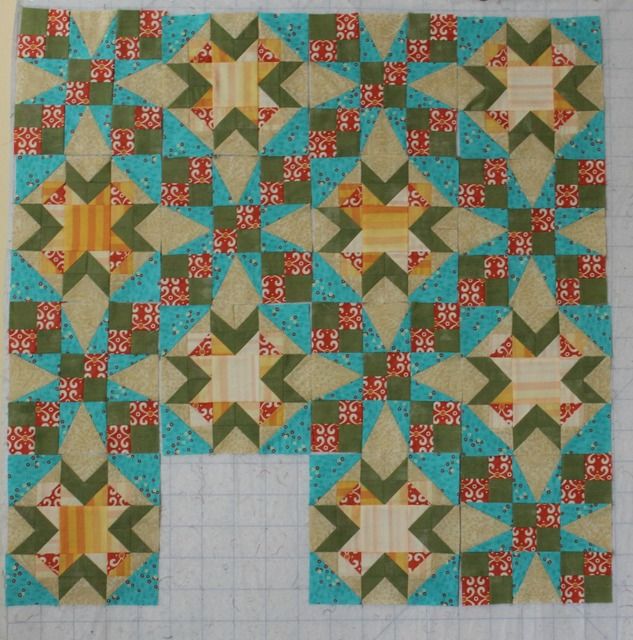 …fifteen blocks. Man, no wonder I gave up on this. But now I have a plan, and with a little math between now and next month, I can figure out how many blocks I need overall. Then this may become a top a little faster than never! But still a little slower, because I am definitely glad to pack it back into the boxes this morning and work on something other than endless flying geese.
And if you're scratching your head after looking at Bonnie's pattern, yes, I swapped the pinwheels in the middle for a solid block on purpose. And apparently I flipped the chevron units to make it a star. I don't actually remember doing that…but I'm sticking with it now!

See also: Monday Making, Main Crush Monday, Fabric Tuesday, Scraptastic Tuesday, Rainbow Scrap Challenge, Oh Scrap!, Whoop Whoop, Needle & Thread Thursday, Let's Bee Social, Design Wall Monday, WiP on Wednesdays, One Monthly Goal, Midweek Makers, Wednesday Wait Loss